Succession, Season 3: I have begun watching the latest installment of this dysfunctional family series. Dad is a media tycoon, and his children swirl around him like bees on a hive. He in Season1 had a health issue, that sent the kids scrambling. Then Season 2 had the one son end with a press conference that sent shock waves through the company. This season continues on with that story. I think that the writing here is brilliant, with the banter among the characters as first rate. Kieran Culkin (yes MacCauley's brother) has some of the best lines as the wise cracking, do very little middle sibling. It's fun. There is plenty of profanity, and it seems that they know very few words that aren't profane at times. But there are some zingers. Each character is very different and not one of them is honest or willing to deal from the top of the deck with their Dad or each other. I will continue to watch.
Body Heat: When there are more obscure lists that are created about movies, Body Heat from 1981 with William Hurt and Kathleen Turner comes near the top in the category of "sweatiest movies". Set in small town Florida, in the middle of a heat wave, the look and feel is one of steam rising from the buildings and streets. Characters cool themselves by standing in front of the refrigerator. The plot involves a sole practicing lawyer, who is not remarkable in any way professionally and is known by his friends as a guy who gets around. He sees the Kathleen Turner character at a local event, and chats her up. She quickly notes to him that she is married. But later in the same conversation is not so subtle in her interest in him. Played by Kathleen Turner, she dresses like she has seen Faye Dunaway in Network often.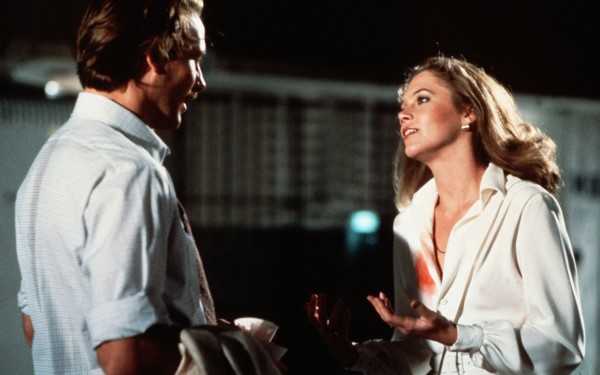 As he learns more, she is married, but he husband is away a lot. She lives in a massive place nearby. She begins to drop hints about how lonely she is. Hurt is happy to step right in. The two then plot to have the husband killed and solicit the assistance of a known arsonist, played by a young Mickey Rourke. Things happen and Hurt soon suspects that he is being manipulated, with indications for the slain husband's murder that some fingers start pointing to him. His buddies, the local District Attorney (played by Ted Danson) and police detective are worried about him. Things progress and unravel for Hurt's character, and we see just how deep it had become. This is a well acted adult story, with the intrigue in the plot of just how the end result could be reached. There are good supporting cast members and the chemistry between Turner and Hurt, crucial for a film like this, is there. This is on Crave but can likely be found in other streaming services. Well worth checking out.
Wendy: This is a 2020 film take on the classic Peter Pan story. In truth, I am not much of a follower of the Peter Pan story, and yet I can think of a bunch of movies that revolve around it that I have seen. Movies such as Pan, Hook with Robin Williams and Julia Roberts, Neverland with Johnny Depp, the Disney animated version and others. Of that listing I like Neverland the best. This one seems more fantasy based, with a intriguing use of a train that transports the children to another land.
This interpretation wasn't awful. The young actors playing the roles were very good throughout. Wendy herself played by Devin France is notably good. Beginning in a small diner, Wendy and her siblings are introduced. She has a Mom working hard to keep her customers satisfied, and she speaks about the children taking on this little business in time. The one boy has no interest in it and wants to be a pirate. One day after a quarrel with the adults, he strips off his pants and jumps on a passing train and disappears. After a time, Wendy and her twin brothers decide to take such a train themselves and meet up with a young black boy in a red jacket. Peter. Their adventure begins. There is backstory to explain Hook. There is further backstory to explain the lost boys. The young Wendy keeps your attention, and she is compelling. Still, I cannot recommend for those who aren't avid Pan fans, if such a thing exists. Given the number of Pan related films there must be, and given the quality of the actors engaged in such projects. The underlying themes of staying young at heart, keeping active and avoiding the ruts of adulthood are well explored. Is it better to stay young forever while others around you are aging? Does aging necessarily mean that there is no more fun or adventure? Do the adults have to let their children go and lead their own lives, seek out their own dreams and place in the world? Time and again we have seen answers to these questions. Truthfully, I wouldn't want to be a little kid all my life, but maybe it's because it has those strings of being told what to do, and not independent and able to stand on your own. Even still. I may want the ability to fly, and more than just to believe that I can do it.