In and Of Itself: Back on Feb 1st I reviewed this movie directed by Frank Oz. I re-watched it again as it was just released on Crave. I enjoyed it thoroughly once again. It is a one man show from a guy named Derek DelGaudio. It is hard to describe it in a single word really. It is part philosophy, part illusion, part parlour trick and altogether interesting. I won't describe it further because it bears viewing with fresh eyes. So if you haven't seen it, check it out.
Scenes From A Marriage (Episode 3): This show is on weekly at present. Once again it stars Jessica Chastain and Oscar Isaac. Both are very good in it. It is slow. It can be painful. The character that Jessica plays, for me, is one that is becoming less and less admirable. That likely isn't a desired trait, or perhaps reflects exactly what the producers had intended; not all people act admirably. So this can be a mirror to what people experience. Episodes one and two have the changes within this marriage beginning. They have been together for quite some time, and she had some news which resulted in a particular direction. Then, once again, she had in episode two after some passage of time some more news that she wanted to bring to her husband. This episode is really a continuation of that news after some time has passed. It is a tough position for the husband to play in this context. Isaac plays it very well. He has been in reactive mode, trying to adjust his life. He has also sought out to evaluate himself and his contribution to the recent happenings. After all there are always two people in any relationship and rarely it would be solely one person who is making decisions in a vacuum. There were moments here that I was actively cringing and speaking aloud for the husband to choose a different path. If you are watching this, you will know when I mean. I will continue to watch.
Last Week Tonight: This ongoing series from John Oliver is always fun for me. The host makes interesting commentary on the news of the day, then has segments of other items of interest. It is done with humour, but also a critical eye. His news item this week was addressing the refugees seeking to enter the US from Haiti and how they have been turned back. At times forcibly with border agents on horseback. His other segment was on Voting Rights and how certain States (mostly red Republican States) are putting forth legislation to limit the ability to vote or at least curtail its availability. Mail-in voting, specific ID requirements etc. are being put forth which can have a disproportionate impact on the non-white voters. There isn't much of a surprise there, but it is an effort that President Biden isn't really taking too seriously. Finally he did a segment on Duck Stamps, which was quite funny. These are stamps that are generally sold to hunters, but also collectors. 97% of the proceeds is used to save wildlife habitation and during its life, has raised over $1B. Each year a team selects the art to be chosen from a list of entries. John's team entered a number of suggestions.
Here is one of them (note the dog from Nintendo's Duck Hunt in the back):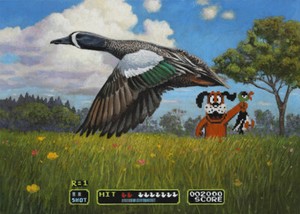 All his entries failed to get consideration from the judges, but he is now auctioning them off with all contributions going to the charity. It was all very funny. In the same way as his purchase of Russell Crowe's divorce movie paraphernalia or having Danbury CT name their waste management plant in his name. Enjoy!